Every year stone and tile companies continue to challenge themselves when it comes to the design of new products. They are continuously improving and expanding their product lines be it a new pattern, shape or size. But no matter how many tile product lines are added, there is one constant and that is natural stone. Who doesn't love the look and feel of natural stone? Most do and there are many benefits! It's natural, eco-friendly, it looks modern and luxurious at the same time and it adds a certain elegance that captures everyones heart.
When you visit our showroom, you will notice we showcase many tile samples of both natural and manmade stone. At a glance, it is hard to tell the difference…. but which one should you choose? Typically, it is your budget that will lead you to the right path of natural vs man made stone.
We are so excited to share with you a project we just finished in North Hampton, New Hampshire. Chris Howlett from Diamond Hill Builders spearheaded this project remodel. It consisted of a master bathroom all in natural stone and 2 other bathrooms (one for each daughter) in man made stone. Can you tell the difference?
We thank Diamond Hill Builders (http://diamondhillbuilders.com) again for thinking of us as their tile and installation company of choice!
MASTER BATHROOM
The master bath is all Crema Marfil Marble, 12 x 12 on the bathroom floor, shower ceiling and shower walls, some set straight and some set on a diagonal separated by a bursa beige mini brick decorative. 1 x 1 tiles are on the shower floor and there are also 2 pencil rails,  2 corner shelves and 2 wall niches. Grout Tec: Unsanded Pearl with Grout Boost: a grout protector.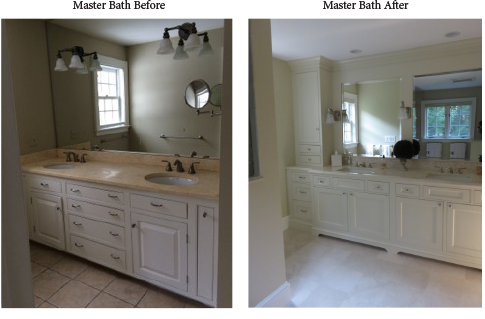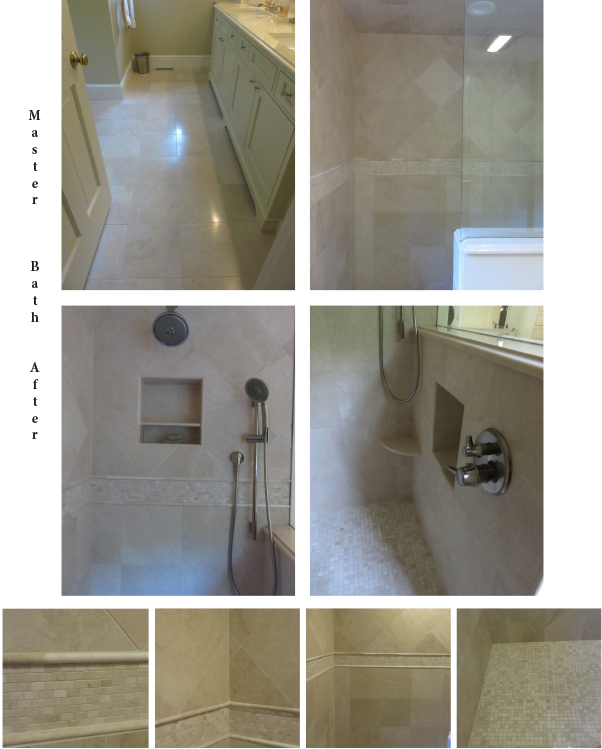 The 2 kids bath have Alaska White 3 x 6 tiles on the tub walls with Bright White Grout, 1 Niche each.  The floors are Roca Bianco 12 x 12 with Antique White Grout.