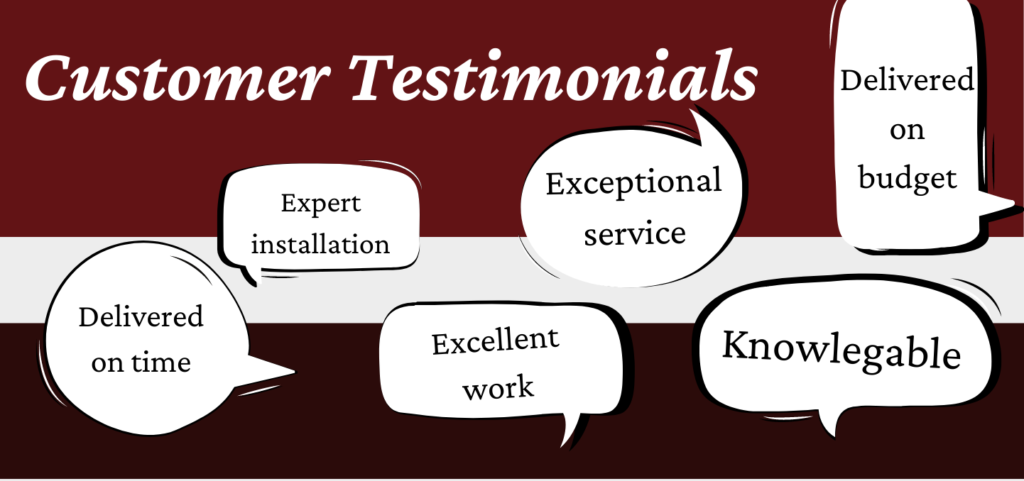 Flooring in Portsmouth NH | The B&C Floor Store
Claudia and I wanted to thank you for the excellent care and shepherding you took with us in our renovation journey these past 3 years. Today marks the 4th anniversary of the closing on our house in York and the beginning of transforming it into our home.

In light of the remarkable world we have all navigated (YES- Renovating, customer changes!, and COVID!), the patience, support and value you provided to us- from our wood floors and carpeting, to our tiling for our hallway & bathroom floors and showers (even suggesting another establishment for our kitchen backsplash), one can only imagine the skills you both have in navigating the"fits &starts" that we had, let alone al of your customers who are looking to create their "home".
The pace of the world has created expectations that are often sublime and make a false destination. The both of you remind us that knowledge and experience makes ALL the
difference from ANY big box store. And the QUALITY of the products and experience you bring too!

We thank you and wish you continued success with THE B &C Floor Store!
Flooring in Portsmouth NH | The B&C Floor Store
This is our third time using B & C Flooring in our home. Quality product, friendly and knowledgeable staff. Installation is very well done, quickly, and the staff is very friendly and efficient. We love our floors and will be back as we update rooms in our old house!
Flooring in Portsmouth NH | The B&C Floor Store
My thanks to both of you for your support in this project. You were wonderful!!! And finding my discontinued hardwood flooring was way beyond the call!! Thank you for everything....the house is a beautiful home thanks to your guidance and advice. Your shop always was and will continue to be a calm island oasis for the rest of us floating in the sea of decisions, choices and worries!!! Your team of installers deserve high praise also....thank you to all.

Give me til mid June to establish the inside...I'll be back to the oasis to formally invite you for the tour!!!

Many thanks again!
Flooring in Portsmouth NH | The B&C Floor Store
I had B & C install a new carpet while my wife was at work as a surprise. We planned this several weeks in advance . The carpet was a high quality carpet with a design, which made it more difficult to install. They showed up exactly when they said they would and finished on time. The installers even helped me move the furniture back in place. We completely surprised my wife and the finished product was excellent.
Flooring in Portsmouth NH | The B&C Floor Store
Excellent work.  Very happy with the quality of work as well as the product.  On time, great follow-up.
Flooring in Portsmouth NH | The B&C Floor Store
Excellent all around. Beat competitors price significantly on exact same carpet and did a great job with the installation. First Class outfit!
Flooring in Portsmouth NH | The B&C Floor Store
Many thanks Carol and Brett and team!

We love the effort made an on our behalf to complete restoration on Dad's house.  He would have loved working with your installers and the job is done!  The Open House is this weekend so we hope a new family makes the right decision!

Many thanks once again.
Flooring in Portsmouth NH | The B&C Floor Store
"I was very pleased with the carpet that the B & C floor store recently installed in our office.  They were quick to give me a quote (which was much lower than I expected) and quick to schedule the installation. The men that did the installation were professional and efficient. Overall a very nice product at a very fair price! We look forward to using them again!"
Flooring in Portsmouth NH | The B&C Floor Store
Dear Carol + Brett,

Our installer did a wonderful (and very neat) job. The tile is gorgeous and the floor looks great!

Thanks so much,

Barbara & Liz
Flooring in Portsmouth NH | The B&C Floor Store
As a local designer, I regularly recommend the B&C Floor Store to my clients because I know that they will be well taken care of. I have consulted with Brett and Carol on carpeting, hardwood and tile for all kinds of my clients, including my own parents who were very pleased with the work that Brett and Carol did at their home. If you trust them with your parents, you know they are good!

Brett and Carol have a great showroom with multiple samples, and are very generous with lending boards and samples so that my clients can see the flooring choices in their own home and alongside their existing furniture and possessions. They are always willing to provide information and honest feedback regarding flooring selections, and I don't know a more pleasant, honest and competent couple to rely on for my flooring needs on the Seacoast. I would absolutely entrust any of my clients - up to and including my parents - with service and attention provided by Brett and Carol.
Flooring in Portsmouth NH | The B&C Floor Store
Brett and Carol have been a very valuable resource for me and my clients. Whether the flooring products have been Mexican tiles or wool patterned area rugs the service has been excellent. Having a great selection to offer is only half the picture. Their experience and attention to detail makes the other half. I highly recommend them.
Flooring in Portsmouth NH | The B&C Floor Store
Fantastic service. I absolutely LOVE my floors. I would highly recommend them!
Flooring in Portsmouth NH | The B&C Floor Store
I was extremely happy with my experience at the B & C Floor Store. I went in to shop for new kitchen flooring and was very impressed with the variety of carpeting, hardwood, tile, and vinyl that they carry. The showroom is set up beautifully, making it easy to see everything that they offer. Brett was very helpful, asking questions to get an idea of what I wanted and what would work best for my home. He showed me several different options, explaining the differences between the various types of flooring. He spent a great deal of time with me, helping me to choose the right flooring and color.  He offered just the right combination of helpful advice and time for me to think about the options without pressure. I was able to take several samples home with me in order to see how each one would look in the room. This was extremely helpful because things look very different in a large showroom than they do in a smaller room with different lighting and colors. Once I chose the sample I wanted, Brett came to my home to measure the room, the order was placed and the flooring was delivered in a very short time. The installer arrived at my home on time and was very polite and professional. He worked quickly but carefully and kept the work area as neat and clean as possible.  When he finished, he showed me how to move my refrigerator in the future so that it would not damage the flooring.
I would definitely recommend the B & C Floor Store to anyone who is looking for any type of  flooring and wants to get the personal, one-on-one type of service that they offer.
Flooring in Portsmouth NH | The B&C Floor Store
We were very impressed with the amount of products in the store. Carol was very knowledgeable, and she explained everything to my wife and I.
Flooring in Portsmouth NH | The B&C Floor Store
Very well. Great service, came out to my house right away, allowed me to keep carpet samples, responsive to phone calls etc. Friendly but not pushy. Installation went well...All in all it was a great to have completed and we're really happy with the end result! I would definitely recommend B and C Floor to others.
Flooring in Portsmouth NH | The B&C Floor Store
I have referred several clients and customers of mine to Brett & Carol at the B&C Floor Store. In each case, my clients (I'm a real estate agent) were delighted with how professionally and respectfully Brett & Carol worked with them to provide estimates, help them choose appropriate flooring, and install that flooring. They offer a multitude of products in a variety of price points so that they can match needs from the most basic to the highest end.
Flooring in Portsmouth NH | The B&C Floor Store
I cannot say enough about B & C Floor Store!
I hired them to install carpeting for my staircase in my foyer. From the moment I met them through the installation of my stair runners, my experience was a delight. I will not hire anyone else for my flooring and tile needs. B & C Floor Store is my choice. I hope that you will give them a try before you decide to hire anyone else.
Flooring in Portsmouth NH | The B&C Floor Store
Dear Carol, Thank you for being a wonderful resource for my clients with flooring needs! As a home stager and decorator, my clients depend on me to refer them to reliable, professional resources for their staging and decorating needs. Today, people are more cost- and value-conscious than ever. So it's very important to me to make sure that I'm directing them to professionals who will listen carefully to their needs, and assist them in finding the best products for their project and budget. Recently you installed new floors for Ardent Technologies in Dover. We had a specific look we were going for, and needed vinyl and carpet to coordinate not only with this particular style, but also with the company's branding colors. You showed me exactly which products could work for this application. When my first choice of vinyl was more costly than my clients wanted it to be, you helped me to find a similar, equally attractive substitute which met their budget, and will be an attractive, long-wearing, durable solution. In the end, my clients and I could not be happier with the finished product. Thank you and I look forward to working on future projects together. Sincerely, Beth Frede"
Flooring in Portsmouth NH | The B&C Floor Store
I've used the B&C floor store in the past for some smaller jobs and they have been fantastic.

Just recently we purchased a home and needed new carpet and title. Within days of looking at samples, our order was placed the install was scheduled and then completed. Now our house looks like new!

What separates the B & C Floor store from their competition is Brett and Carol (the owners) They listen to their customers and work within their budget. They have something for everyone's budget (large or small) Their motto is "We floor our customers" and its 100% true.
Working with good people who care about their customers is a recipe for success in my book !
Flooring in Portsmouth NH | The B&C Floor Store

We could not be happier with the work that has been done in our master bathroom. Carol and Brett were so helpful in helping us select the tile for our shower and floor. They know their products and helped us make selections that would be beautiful and functional. The tile installers, Steve and Sonny were fantastic to work with. They took the time to explain options to us and went above and beyond to make the shower look beautiful. B and C will also be doing work in our other bathroom and kitchen, so I feel confident those projects will go smoothly also.
Flooring in Portsmouth NH | The B&C Floor Store
Over the last 14 months we have been involved in multiple renovations to our house. Our General Contractor recommended B&C Floor for all of our flooring needs and we've been completely satisfied with the work done so far. Whether it's tiling for floors, a kitchen back-splash, matching existing carpet or constructing a custom stair runner the work they have done has been outstanding
Flooring in Portsmouth NH | The B&C Floor Store
I can not say enough positive things about our experience with B & C Floor Store! The owners Carol and Brett provided outstanding customer service with our project. After shopping at two other Portsmouth local tile stores and receiving little attention even though we knew exactly what we wanted to order, I decided to call B & C. Carol responded quickly and gave me a price quote over the phone within a couple of hours. Brett helped us through the rest of the process and provided great advice. Their price for the Travertine tile installed was very good and the installer was outstanding. Steve was very professional and extremely helpful. Our kitchen looks amazing with the new backsplash and we could not be happier with our experience with Carol, Brett and Steve. We are planning to renovate our bathroom in the spring and we will definitely be using them for this project also. Thank you B & C!
Flooring in Portsmouth NH | The B&C Floor Store
As first time home buyers we were more than overwhelmed with the process of choosing flooring for our new house. Carol and Brett were great in educating us about our options for both carpet and hardwood. They walked us through the process and made us feel comfortable with our decisions and expectations. Not only did they work within our budget, but they offered creative solutions to help us achieve the look we were envisioning. We absolutely love our new hardwood and carpet and will continue to recommend and use B&C Floor Store for future projects!"
Flooring in Portsmouth NH | The B&C Floor Store
They were very nice and efficient - the estimate was performed promptly, the work was done as soon as the carpet could be delivered from the wholesalers, and the installers were exceptional at working around our truly challenging schedule. Their prices were very good, although I went into this with the thought of those television ads promising to carpet up to three rooms at $199 per room, so I guess that I wasn't being realistic in my expectations. All-in-all, they are the people that I will call next when I need some carpeting installed...
Flooring in Portsmouth NH | The B&C Floor Store
I neded to have a stained vinyl floor covering replaced in a rental bathrom and had just become aware of it a few days before new tenants were due to arrive.

B&C owners helped me choose an appropriate replacement, and their installer came the next day. His work was perfect: remarkably fast, neat, and careful. I highly recommend B&C.
Flooring in Portsmouth NH | The B&C Floor Store
Recently had a carpet job done by B & C Floor Store. Carol and Brett the owners are great to do business with. Carol was very welcoming and knowledgeable when we visited the store. Brett followed up in a timely manner with a visit and reasonable quote on the job and the gentleman who came and installed the carpet (I forget his name) was very friendly, skilled and efficient! We will definitely contract B & C Floor in the future and highly recommend them.
Flooring in Portsmouth NH | The B&C Floor Store
Brett & Carol took the time to help me with my tile needs. They followed through on all of my questions and were a pleasure to work with.
Flooring in Portsmouth NH | The B&C Floor Store
Love our backsplash! Everyone at B & C Floors are the best. Steve is a master at installing tile. Carol and Brett are patient, knowledgeable, and truly want you to have a design you will love. They did our baths last year (gorgeous walk in tile shower, new floors) and now helped us complete our beautiful new kitchen.
Flooring in Portsmouth NH | The B&C Floor Store
I used Brett and Carol to do a large commercial carpet project in Newington. I was not able to be there to supervise but everything still went perfectly. It is nice to deal with intelligent competent people who do things correctly.
Flooring in Portsmouth NH | The B&C Floor Store
It is so nice to have a local alternative to the big box stores when looking for new flooring in Portsmouth. B&C has put together such a nice showroom, with so much to offer in terms of selection. We found some beautiful tile that looks like antiqued wood and other flooring made of durable cork. Mostly what has drawn us to the B&C floor store is how nicely Brett and Carol treated us. Very neighborly and sincere. Highly recommended!
Flooring in Portsmouth NH | The B&C Floor Store
I've known Carol & Brett for more than 5 years, and found them incredibly knowledgeable and willing to answer all of my questions. They provided the tile for my fireplace and backsplash which I love (first time I've done this) and they're certainly the ones I'll call when it's time to replace some carpeting with wood.

They were also an incredible resource when I owned my handyman business, loaning me sample boards for various clients, providing estimates and easy to work with when it came time to schedule installations. They have a great network of installers who they trust, and who I've come to trust ... so you can't go wrong when you work with the B&C Floor Store team.
Flooring in Portsmouth NH | The B&C Floor Store
Great experience with B & C Floor Store from start to finish. Carol, Brett and the installer Steve were outstanding providing excellent advice and customer service. Our backsplash project looks great and we will definitely be using them when we renovate our bathroom. Thank you B & C!!
Flooring in Portsmouth NH | The B&C Floor Store
I highly recommend B&C Floor Store. Regardless of the project's size, Carol takes the time to help me find the right fit in our budget within my timeframe whether it's in her store or she needs to source. It's nice to know I don't have to shop for tile and flooring anymore....I just seek Carol's advice!!
Flooring in Portsmouth NH | The B&C Floor Store
Great experience with tiles being install in my bathroom, kitchen and foyer.
Flooring in Portsmouth NH | The B&C Floor Store
It's always a guessing game which flooring company will be the best choice. Depending on your priorities, you may list these differently, but I can guarantee they all are values that B&C Flooring exemplify as a trusted business.

1. Communication= will someone answer my telephone call, text or email with any question before, during or after installation?

2. Knowledge - Does this business know about the product, manufacturer, or are they just a good sales person?

3. Price - Is the price competitive with other quotes?

4. Installation - Is the installer someone that is a regular and known for quality work?

5. On time -The appointment to measure, materials delivery, scheduled installation?

I'm a "white glover" and expect reasonable cleanup during and after a job is completed. Well, installers Todd and Bailey did more than a reasonable cleanup!

I am exceptionally happy with my new floors!
Flooring in Portsmouth NH | The B&C Floor Store
Outstanding experience with Carol and Brett at B&C Flooring. I was certain I wanted a grey color tile but was undecided when I came into their showroom.

I was helped by Brett at first and he showed me lots of different styles.. still undecided I came back the next day and Carol layed them out on the floor and gave me a good minds eye visual and she picked the same one Brett did..so ..great minds think alike.

I was having trouble with my contractor so they fit me into their schedule to have them installed while I was on vacation "perfect" I was thrilled to see after a few days how beautiful they looked. For a  bit extra I opted for the radiant heat pad for under the tiles to keep the floor warm in winter.

Thanks Carol and Brett
Flooring in Portsmouth NH | The B&C Floor Store
We used B & C for bathroom tile on our 1st DIY home remodel project. (If you want some lessons learned; drop me a line). After looking at the 2 big tile stores in Woburn,MA and a couple local flooring stores locally in Newburyport area, I knew what I wanted. I ended up stumbling upon B&C on my lunch hour as its near my office and saw same tile from another store I was going to work with but the Sales manager was a bit of a nudge. Price was similar maybe a few dollars more or less but the customer service won me over. So I hit some DIY roadblocks... Ran out of grout and short on tile, Bret was able to get more in quickly.  Overall A++ customer service and quality products. I plan on using them for our next bath remodel project that won't be a DIY.
Flooring in Portsmouth NH | The B&C Floor Store
I used B&C for flooring in a laundry / mud room several months ago. I wanted something nice but I had a small budget for the floor. I had also used them for a floor in our finished basement when we had it completely finished about 6 years ago. That floor sill looks like new and the installation has held up extremely well. Both times, they came highly recommended by Dennis Ferry of Patriot Renovations, who did our renovation. Since Dennis is the best contractor we have ever hired for anything on our house, we trusted his recommendation.

B & C delivered. Their customer service is outstanding and they were a pleasure to work with. The man who did the installation went the extra mile and stayed extra time because he did covered a squeak we had been noticing for a long time and he fixed it at no extra cost. The business is owned by a husband & wife team who do good work at a fair price, sell a quality product, and work very well with the customer's needs.
Flooring in Portsmouth NH | The B&C Floor Store
The B & C Floor Store exceeds my expectations every time they work on one of my flooring projects. We started working together 5 years ago. They've replaced linoleum floors with tile in kitchen, dining area, front hall, basement rec room, mud room and master bath (completed last month.) I love the bamboo flooring they installed in our living room and the carpeting on our stairs.

Can't say enough about their customer service, installation crews and attention to detail. They have a wide range of products to choose from and are very helpful when it comes to selecting the right product for the right use.
Flooring in Portsmouth NH | The B&C Floor Store
Every day I admire the carpet you helped me pick out and installed for our living room last June.  It's beautiful and I don't think I would have found it without Carol's help.

Thanks so much!