Bringing the green spirit to women in business
By Tricia Dinkel @ The Green Alliance [
From homemakers to mothers, from bosses to business owners, women have come to take on some of the more challenging roles in our society.  Carol Burgard, of the B&C Floor Store is no stranger to the dynamic role of women in business and at home.
As co-owner of B&C Floor Store, Carol marks her experience in business with the store's success and active community involvement.  In addition to being a Partnering Business of the Green Alliance, Carol is a proud member of WINGS, Women In Networking Going Strong.
Since its start in 2011, Carol has joined women from all over the Seacoast to engage in WINGS monthly gatherings. WINGS was created by New Hampshire Mom Entrepreneur, Denise Bell who wanted to connect women in a casual, social environment with other professional women. The group meets the third Wednesday every month in Portsmouth, NH.
As a certified Green Alliance Partner, B & C Floor Store does more than exemplify the greener approach to business. In the interest of perpetuating her green sense of business, Carol collaborated with Gayle Sanders form GRS Home Images  to organize a recycled gift swap for the WINGS members, with the notion that one woman's trash is another woman's treasure.
"WINGS is a great platform to socialize and network with other women in business and I thought having a green Yankee Swap would be a fun way to celebrate the holidays without having to go out and buy new presents." States Carol. "It's entertaining to see what people find in their homes that they no longer want and it's a good way to clean out some of that clutter."
When she's not lunching with the ladies of WINGS, Carol runs the B & C Floor Store in Portsmouth with husband, Brett Burgard. Joining the GA in October, the B&C Floor Store offers Green Cardholders 5% off on all cork, bamboo, and hardwood, and 10% on carpet, vinyl, linoleum and tile materials.
From now until December 23rd, GA members also get a special Holiday Discount for $50 worth of free cleaner (vinyl, ceramic, hardwood, carpet & grout) or a free hardwood floor cleaning mop system ($50 value) with every order totaling $500 or more.
Want to give the gift of green? Check out the GA Holiday Membership offer here! www.greenalliance.biz
B&C Floor Store Offers Eco-carpeting for Healthier Living and More Durable Style
By Alanna @ The Green Alliance| Jul 25, 2013 |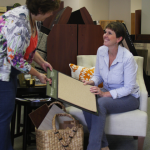 PORTSMOUTH — Most carpet feels good on your feet, but not all varieties are healthy for you and your living space. In fact, most conventional carpets do more than cover your floors; they pollute your living space and can cause health problems for you and your family.
A solution does exist, however, to safely cover your floors with eco-friendly carpet while also stylishly decorating your home.