New Hampshire Tile Flooring and Tile Backsplash
If you're remodeling or updating the flooring or walls in your New Hampshire home, one of the first things you'll do is consider what material to use. Choosing your surface material can be an overwhelming decision. Trust us, with hundreds of options in our flooring showroom, we know just how tough it is to pick. Tell us all your hopes, questions, and concerns and we'll leverage our decades of experience in the flooring industry to guide you to the right decision.
We want to make your dream space a reality and are here to walk you through the details of choosing a tile option.
Why We Love Tile
Like hardwood, tile is a timeless and versatile flooring option. It can easily bring a sense of tranquility and luxury to your functional spaces. We love the way a tile floor makes even your hardest working rooms like bathrooms and laundry rooms feel like a spa. By adding a tile backsplash, you can bring interest, color, and contrast to your walls. Decorative accents work great to bring new life to showers, or kitchens by adding stone or metal accents behind your stove. Backsplashes can act as focal point for any bathroom or kitchen space.
Imagine friends and family gathering in your newly renovated kitchen for the holidays, your new tile backsplash drawing everyone's eye. Or picture your tired bathroom, finally refreshed after your kids grow up, now a spa-like sanctuary.
These are just a few examples of where tile can be added to your home but let's get into the full list of rooms where we install tile:
Popular Rooms for Installing Tile
Bathrooms
Showers
Powder Rooms
Kitchens
Mudrooms
Play Areas
Entryways
Laundry Rooms
Fireplaces
Basements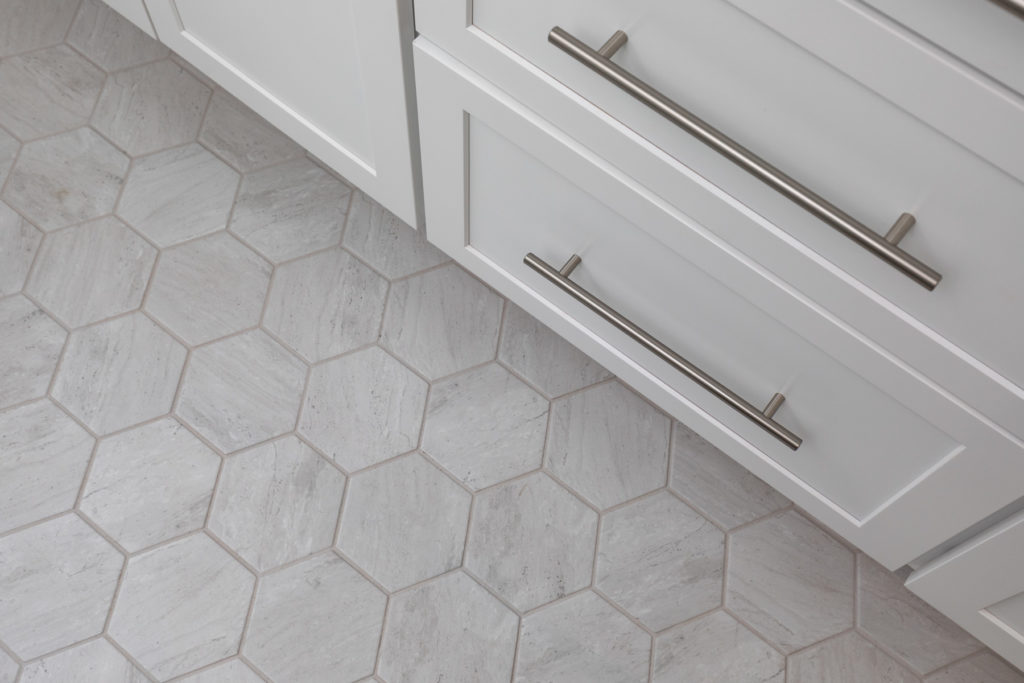 Though these rooms are where we most often see customers looking to install tile floor or tile backsplash, the sky is the limit! Some people love the way tile can give living rooms and bedrooms in their New Hampshire home a new, Mediterranean look.
We've talked about using tile both on the walls and as flooring, but what exactly is the difference between these applications? And how do you know which tile is best for your floors or backsplash?
All tile is rated by hardness on a scale of 1 to 5 called PEI rating. Wall tiles tend to have a lower hardness and can range from 1-3 on the scale. Ceramic is one of the most common wall covering materials. Floor tiles tend to fall between 3 and 5 to ensure they can withstand regular foot traffic and accidents.
Not only can tile look great in any room, but it also has many benefits that make it a great choice for flooring and walls.
Benefits of Installing Tile in Your New Hampshire Home
Tile is one of the most durable flooring options available today. In fact, many people mistake Porcelain as a fragile material when it is actually the strongest tiling option with a hardness rating of 4-5.
Like hardwood, tile is considered a permanent flooring option that can last a lifetime. It has the added benefit of being easy to clean and pet friendly—none of those pesky scratches that can mar wood floors—without sacrificing style.
The combination of durability and style provided by tile adds value to your home and can make it a great option if you're considering putting your house on the market or want to increase curb appeal.
How Affordable is Tile?
All of this sounds great, but we know how important it is to consider budget when remodeling your New Hampshire home. All our tiles are on par with other flooring and wall options in terms of material cost. What sets tile apart is the cost of installation.
Installing tile can sometimes require a new underlayment. Installers then lay the tile, paying close attention to detailed placement, allow the adhesive to cure, and then apply grout. Though this can make tile a more expensive option, it is truly a long-lasting flooring choice.
Types of Tile
With such a huge variety of colors, textures, and patterns, tile is one of the most dynamic floor and wall options. They range in style from the simple and classic subways tiles to beautiful natural stone and even metallic tiles in a spectrum
of finishes.
Find more details about each of our tile options by visiting the dedicated pages below:
Tile Flooring Installation
We offer expert installation in New Hampshire, Southern Maine and even into Massachusetts.
We also happily support DIY customers who are looking to buy the material and install it themselves. You can always contact us with any technical questions that will help you make your dream home a reality.
Are you a contractor or construction company looking for a reliable source of high-quality floor and wall tiles in the New Hampshire area? We can help your customers select their tiles and go through the various designs and functionalities of a shower to make – remove simplify your job. We're pleased to partner with some amazing professionals to provide personal assistance in their tile projects.
Our New Hampshire showroom carries several superb tile brands for you to choose from. Explore them below:
Daltile
Fitzgerald Tile
Florida Tile
Florim
Genrose
Imagery
Interceramic
Lungarno
Marazzi
Expert Tile Design Advice
Not sure if tile is right for your New Hampshire home or just don't know which tile option to choose? That's what we're here for! We love to have customers visit our showroom in Portsmouth, New Hampshire, where we can walk you through the process and help you make the right decision to transform your space.
At our showroom, you can explore the tile floor, wall, and backsplash options with all your senses. It's so important to touch and feel the various tiles and truly envision how they will look in your home. We always suggest bringing along anything related to your remodel like cabinet doors, countertop samples, fabrics and paint swatches to help create a cohesive design.
With our decades of experience in the flooring industry we can advise you on design and style. You can walk away with product samples to test out in your home and even set up a time for a free tile measure.
Let's work together to make your space beautiful!