Sharing Our Customers Experience
We usually don't put testimonials on our blog, we save them for our testimonial page but we thought we would make an exception for this one and share it with you.
Dear Carol and Brett, 
I cannot thank you enough for all your help and patience throughout the process of choosing a new backsplash for our newly remodeled kitchen. You did such a great job on our foyer that there was no question that we had to use B & C Floor Store!
I am not one to write a recommendation as I am about to do right now (although I regularly compliment those face-to-face who provide us with great service.) But I feel the need to do so for you and your crew for another outstanding job. I hope that you are able to post this testimonial where many can read it because we feel that it is important that your readers  know what an amazing company B & C Floor Store is.
I know that this has been such a busy season for you and I just want to refresh your memory a bit on our project. My husband and I were torn between two backsplash ideas we found on Houzz – #1, a  black vertical tile and #2 a herringbone Carrera Marble. Carol, we were thrilled you were able to locate and also send us a sample of these tiles so that we could match it up to our cabinets, countertop and paint choice. When we received the samples we were able to narrow down our choice to the Carrera Marble. Although the photo of the black backsplash looked stunning, we wouldn't have been happy with the dark bold look of it. Thank goodness we had the sample to help us come to best backsplash choice for us – the Carrera Marble. My husband felt the black was too bold and we both loved the Carrera Marble. Although we were madly in love with the herringbone pattern, we were a little reluctant to choose this wondering if it was going to be too trendy (the herringbone pattern goes way back but not necessarily for a tiled backsplash).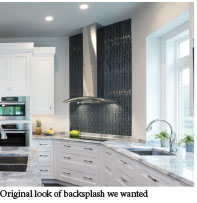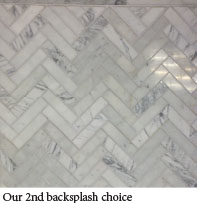 We wanted to send you photos of the finished backsplash and a close up of the tile installation. Just beautiful!! We couldn't have done it without you! The standard, classic 3" x 6" honed subway tile in Carrera marble with Carrera marble 12" bull-nose trim, honed with white grout was the best choice for us… we couldn't be happier!  Thank you so much for the level of service we received. Your attention to detail and customer dedication cannot be beat,  and your expert installer far exceeded our expectations.  Every person that has come to visit our newly remodeled kitchen raves at our backslpash (and kitchen too)! 
We cannot thank you enough, Carol and Brett, and we would like to tell everyone out there that is in need of tile and flooring, PLEASE give B &C Floor Store a call, you will not be disappointed!
We looking forward to working on our next project with you!
Kathy & John N
Windham, NH
To our Readers:  Brett and I couldn't pass up the opportunity to post this testimonial but our real intent is to let our readers know that we are here to help you throughout your flooring projects. If you are searching the internet and find a look you like, we can help you replicate it or find something similar just like our Windham NH customer.
We are very particular with the brands we carry, always keeping in mind availability, versatility, durability and affordability. Please visit us, our showroom has a gallery like setting with an open floor plan so our customers feel right at home.
Carol & Brett