We are excited with this months topic for our blog, Effortlessly Chic Backsplashes. We have some great ideas for you that will enrich your kitchen just by updating your backsplash.
There are many options for your kitchen backsplash. In the past, many people just chose ceramic, porcelain or natural stone tiles. In recent years, however, other great choices have become more popular. We have been installing not only the classic ceramic, porcelain and natural stone tiles but we are combining them with glass and metal. The beauty of tile is timeless, your options endless. Follow along as we share some of our recent backsplash installations. We hope they inspire you to attain an effortlessly chic kitchen backsplash.
Below is a kitchen backsplash that we installed combining porcelain tile with metal tile accents. The majority of the backsplash is a 4" x 4" tile installed on a straight lay. Over the stove we switched to a 2" x 2" set on a diagonal surrounding the Daltile Urban Metal 6" x 6" Stainless Tile centered in the middle. The Daltile Ellipse Stainless Liner .5" x 12" encircles the area around the porcelain 2" x 2" tiles and  6" x 6" stainless tile.
We worked very closely with our customer in New Market, NH on this project. We guided them on the size of the tiles to choose – to be in keeping with the dimension of the area. We kept within their budget and offered suggestions to combine the husband and wife team's individual styles. We provided them with several tile samples to take home to make sure it was exactly what they wanted for their kitchen. The outcome "effortlessly chic"!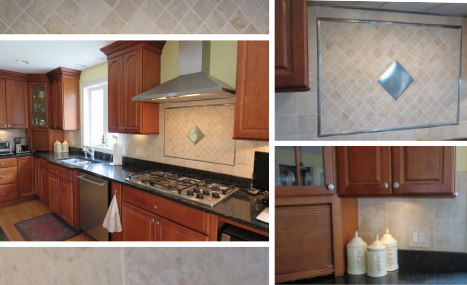 The backsplash installation below was located in Stratham, NH. It is amazing by just choosing  a few different sized tiles that compliment each other, how chic the outcome.  Our customer wanted colors in the gray family, a very popular color pallette with a classic feel for todays kitchens. We installed 5/8" Mosaic tile, Color: Waterfall on the majority of the backsplash. We used 5/8" random linear Mosaic Glass & Stainless, Color: Quartz, over the sink and between the refrigerator and pantry. The Grout color: Silverado. Just Stunning!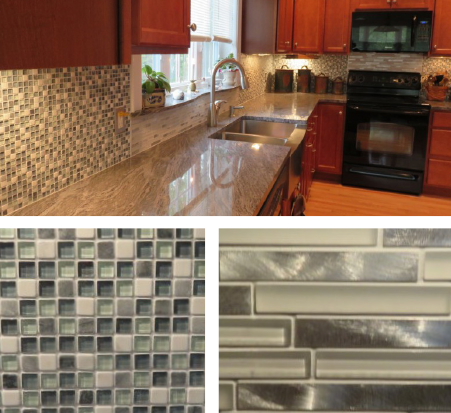 The tile we used for another lovely Stratham, NH kitchen (they are actually neighbors of the family above) is Daltile, Clio Mosaic, CL15 installed horizontally on all walls except for above the stove and desk. Above the stove we installed a glass tile called Linen Color Washed Slate installed horizontally as well.  Above the desk, we installed the same Glass Linen Washed Slate vertically. The grout color we used throughout the kitchen backsplash project was Birch.