And the living is easy….  As the jazz song goes from play "Porgy and Bess" written by George Girshwin in 1935. Summertime is a great time to kick back with family and friends. If you have a floor or tile home project that is preventing you from having guests over,  now is a great time to tackle those home projects. The days are longer, the weather is perfect and you can pace yourself at whatever speed is best for you.  We are here to help you from a do-it-yourself project to guiding you through the flooring options to the installation done by our experts.
Not only are we going to help you with your floor or tile project, we are also going to help you with summertime no-sweat, no-nerves summer gathering ideas for your family and friends (see below). Have them over once your project is complete or better yet, invite them over and have a do-it-yourself project party where everyone helps to get the project done.
For some ideas for a small summertime project, here are photos from a few of our do-it-yourself customers that just bought flooring from us: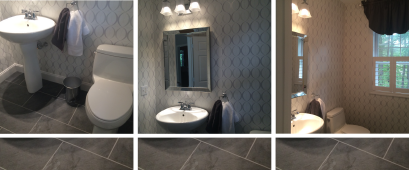 Suggested Summertime Entertaining Ideas
Music:
Ella Fitzgerald & Louis Armstrong – "Summertime" from Porgy and Bess
Rosemary Clooney –  "Come On a My House"
Nat King Cole –  "Those Lazy Hazy Crazy Days of Summer"
Eddie Cochran – "Summertime Blues"
Bryan Adams  – "Summer of '69"
Kid Rock – "All Summer Long"
Guess Who – "American Woman"
American Authors -"Best Day of My Life"
Colbie Callait – "Brighter than the Sun"
Lorde – "Team"
Nico & Vinz – "Am I Wrong"
Food:
Mini Beef Sliders with Caramelized Onions, Melted Cheddar Cheese and Garlic Aoli
1 1/2 lbs ground beef
2 1/2 tsp Montreal Steak Seasoning (divide in half)
10 slices good cheddar cheese
1/4 cup butter
1 large red or yellow onion sliced very thinly into 1/4" rounds
2 tbs. butter
1/2 cup good mayonaise
1/2 cup sour cream
1 tbsp. dijon mustard
2 tbsp. capers
1 tbsp. garlic paste
salt and pepper to taste
1 package mini slider buns
In a bowl combine half of the Montreal Steak Seasoning with the ground beef, and shape into 10 patties about 1/2" thick.
In a large skillet, melt butter and add onions and remaining Montreal Steak Seasoning, salt and pepper to taste. Cook onions until caramelized
In a small bowl add mayonaise, sour cream, mustard, capers and garlic paste, mix well add salt and pepper to taste.
Cook burgers on the grill until cooked to personal preference,  add cheese until melted, place slider on a bun add the garlic aoli. Serve with green salad and or potato salad. Enjoy!
Drinks:
Sparkling Melonade with Mint
5 cups roughly chopped melon (watermelon, cantalope or honeydew)
3 tbsp. fresh squeezed lime juice
4 tsp. pure maple sugar or you can substitute with honey
Handful of mint leaves
2 bottles sparkling mineral water
Vodka optional
In a blender, put the mellon, lime juice and maple syrup and blend on high speed until smooth, add a few of the mint leaves and pulse a few times just to chop the mint.
Fill a glass about 2/3 up of ice cubes add melon mixture and top with sparkling water and stir. Add a mint leave for garnish. Add vodka if desired.