New Hampshire Vinyl Flooring Options
There's no denying that the timeless look of classic hardwood floors, tile or stone can truly make your space beautiful. But what if we told you the same traditional styles and appeal were possible without the same price tag or the high level of maintenance?
If you're looking for durable and affordable flooring, vinyl flooring options should be top of mind.
Are Vinyl Floors Right For Your New Hampshire Home?
Vinyl is one of the most popular flooring options, especially in new construction and remodeled homes. With the busy real estate market, we're seeing more and more customers requesting vinyl for their flooring projects.
There are so many reasons why vinyl flooring is increasingly popular among homeowners and construction companies. For one, vinyl is one of the most durable and easy to maintain flooring options. Vinyl is resistant to scratches, stains, and dents.
Many vinyl products come with a 25 year or even lifetime warranty, so you don't need to worry about frequent repairs like with hardwood floors. Vinyl is made to be waterproof, so it is perfect for families with pets or young children, rental properties, and some can even be used in 3 season porches.
This makes vinyl a great option for any high traffic areas throughout your home.
Rooms Perfect for Vinyl
Kitchens
Bathrooms
Finished Basement
Exercise Rooms
Family Rooms
Hallways
Bedrooms
Mudrooms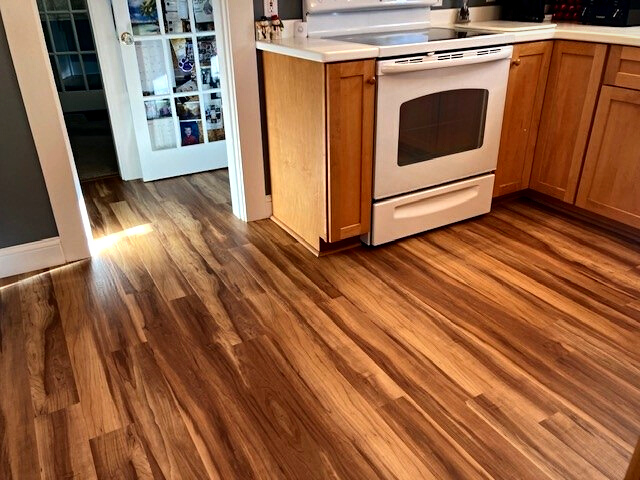 When those New England snowstorms roll in and boots covered in snow are stomping into your home, you'll thank your vinyl mudroom floors. Cleaning is rarely anyone's favorite task, but you'll love how easy it is to clean your vinyl kitchen floors after spills and messes.
Not only does vinyl work well in so many different spaces throughout your home, but you can also change the style depending on where you decide to install it. In your kitchen you could use vinyl flooring that looks like stone, then your bedroom could be decked out with vinyl floors that look like wood. There's something for every room in the house.
Different Styles of Vinyl Floors
There truly is such a wide range of styles, surface effects, and colors that you can achieve any look you dream of by installing vinyl in your New Hampshire home. Though we can't possibly name them all, here is a sampling of the different looks you can get with vinyl:
Wood
Stone
Ceramic
Mosaic
Pebble
Cement
It's no secret that vinyl allows you to choose an affordable flooring option without sacrificing your vision for style and comfort. To explore the full range of vinyl flooring options, make a trip to the B&C Floor Store in Portsmouth, NH. We're happy to walk you through our available products or let you discover your favorites on your own.
You've heard before that vinyl is an affordable flooring choice, but just how does it compare to other flooring products?
How Affordable is Vinyl Flooring?
To understand vinyl flooring cost and how it compares to other surface materials, we must remember that value is always influenced by how long-lasting a product is. Vinyl floors offer the best of both worlds. Though tile is the most durable flooring option, vinyl is not far behind and is less expensive. There is a wide range of price points for vinyl floors and some options can be less expensive than traditional hardwood floors while offering easier maintenance and more durability.
It's always important to consider the function and long-term goals for your space when thinking about budget. We're always happy to talk you through pricing and help you make the decision that works best with your budget.
Vinyl Flooring Installation
For our customers in New Hampshire, Southern Maine, and Massachusetts, we offer expert installation. The installation process will look different for every customer, and we'll be sure to talk through the steps for your individual project.
Additionally, we'd love to supply beautiful vinyl planks, sheets, and tiles to your contracting business or construction company in the New Hampshire area? Vinyl is a great option for multi-family homes, office spaces, rentals, and condos.
We carry a number of vinyl brands, each specializing in different types of vinyl floors. Check out a few of our options:
Tarkett
Beauflor
Hallmark
Stonecast
Ceremeta
Shaw
Explore Vinyl Flooring & Get Expert Advice
With so many looks to choose from, it can be tough to make a decision on which vinyl floors will look best in your New Hampshire home. We always encourage our customers to join us in our showroom in Portsmouth, New Hampshire, where you can take your time in evaluating the many options.
To help give us a better idea of your design vision, please bring along anything related to your remodel like fabrics, paint swatches, cabinet doors, and countertop samples to help create a cohesive design. With your input and imagination in mind, we can direct you towards the best vinyl options.
Redesigning your home's floors or creating a new space requires lots of thinking, so we always have product samples available for you to take home with you. In the end, we want to help your dream become a reality, so take your time in thinking about what will look best for you and your family.
Let's work together to make your space beautiful!