New Hampshire Custom Stair Runners
When it comes to flooring, stairs are often the forgotten piece of the puzzle, but they offer an opportunity to bring your décor styles together and make a statement. Many traditional homes in New Hampshire situate the staircase at the front of the home, making it a key visual element for anyone entering the space.
If you want to tie everything together with a beautiful first impression, consider installing a custom stair runner in your NH home.
Why Install Carpet Runners for Stairs
Of course, the variety of carpet styles make stair runners an attractive option. Your runner can be neutral, oriental, patterned, or bold and unexpected. Runners come in virtually all colors and are available in varying widths to best fit your stairs. But what many don't realize is that stair runners have benefits beyond aesthetic appeal.
Comfort comes to mind first in adding carpeting to staircases and landings. The softness underfoot makes for easier and safer travel up and down your stairs. Adding carpeting to your staircase also gives your feet good purchase and eliminates the danger of slippery wood or tile.
For any home that includes young children, pets, or family members with mobility issues, this added safety could be the difference between security and a disastrous fall.
Tired of hearing your family stomp up and down the stairs throughout the day or want to make sure you can softly return downstairs after putting your kids to sleep? Stair runners can help to absorb sound and soften your footsteps for quieter trips up and down.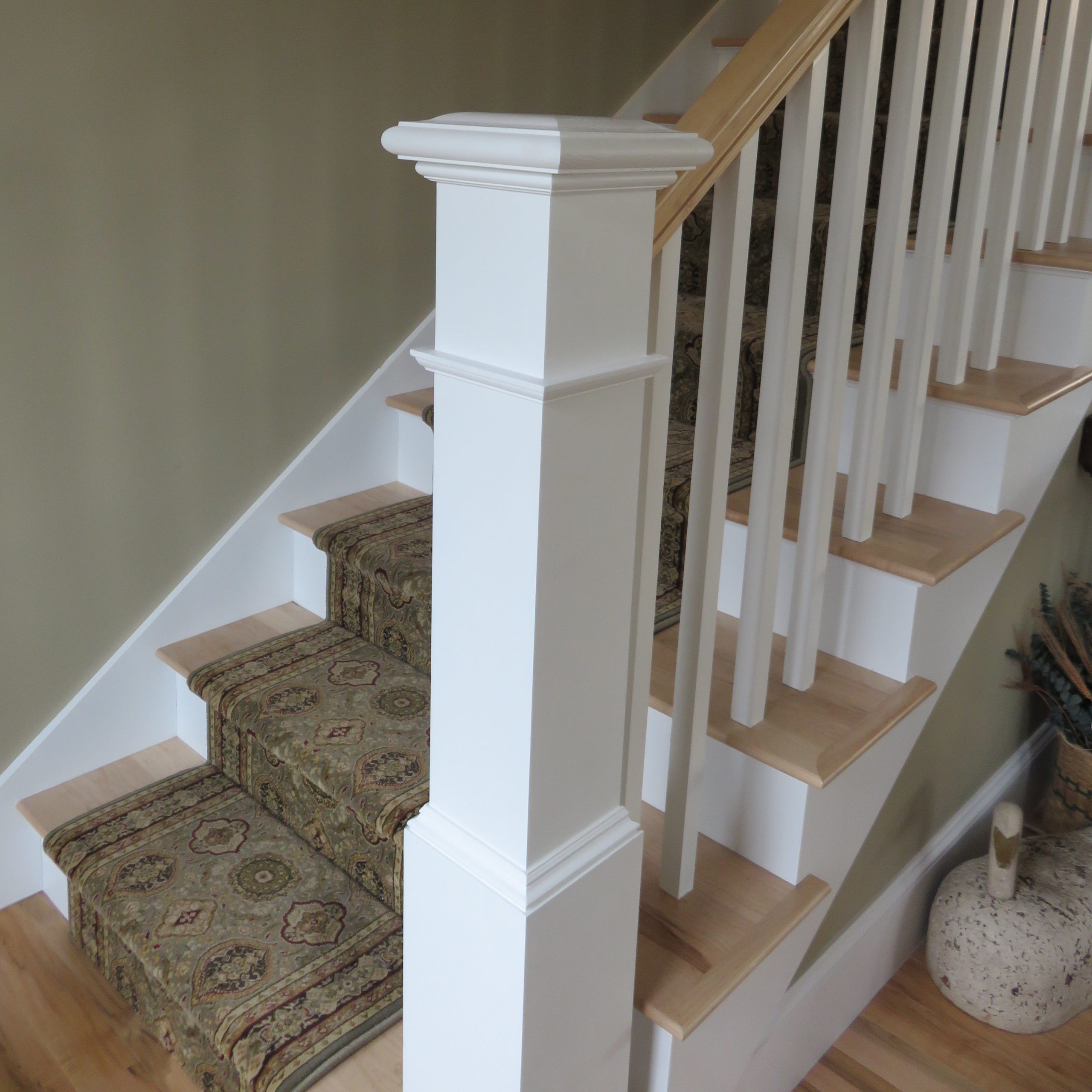 We think stair runners look great on just about every staircase, but we know that they might not fit the style of your entire home. Consider where they will be most useful and remember that there's a wide variety of styles to choose from to match your décor.
We highly suggest adding carpet runners to the stairs leading down to your finished basement to make for safe navigation. Carpet runners can also extend to landings and hallways where they help transition between spaces and tie your rooms together seamlessly.
Types of Carpet Runners
This page would be endless if we tried to list every type of stair runner you could choose from, but we want you to understand the basic categories they fall into.
Patterned Runners: These runners come in an almost limitless choice of colors and designs and are typically pre-made in various common sizes. You could be in search of a classic oriental runner featuring abstract and floral designs, or a more modern or geometric pattern. It's always smart to consider how the pattern will look when bent over stairs or around corners before choosing.
Broadloom Runners: The biggest benefit of choosing broadloom construction for your stair runner is that they can be custom cut to your exact specifications. These runners come in cut and loop styles with a variety of subtle colors. Believe it or not they can sometimes be less expensive that premade patterned rugs.
Stair Treads: Rather than running a continuous piece of carpeting down your stairs, treads cover only the top of the stair and leave the riser uncovered. They can be great for achieving a minimalist effect while still providing added comfort and safety.
Carpet Runner Affordability
Like with full room carpeting, stair runners and carpeting landings are an affordable flooring option. With proper installation and maintenance, they can last for years to come. Additionally, this flooring option helps protect the wood or tile flooring underneath from regular wear and tear.
Of course, the price of your stair runners will depend on the style, size, and installation. Once you've narrowed your options, we're happy to discuss specific pricing for your particular project and work with your budget.
Stair Runner Installation
Installing carpet on stairs is a tricky and delicate process, but our expert carpet installers can handle even the windiest of stairs. We're proud to service families and businesses in New Hampshire, Southern Maine, and Massachusetts.
Runner installation always starts with measuring your stairs! If you are purchasing a custom stair runner its incredibly important that we get all the right measurements before we begin cutting and fitting your carpet. We'll prep your staircase and landing area by ensuring everything is clean. You may be adding pads beneath your carpet runner to extend the lifetime of your carpet and add to comfort underfoot. Finally, installers will staple and trim your carpet to secure it in place.
If you work for or own a New Hampshire area contracting business or construction company, we will also happily supply you our array of carpeting options to offer to your residential and commercial customer. Adding a stair runner to a home can often be the icing on the cake!
To get an idea of the quality brands and styles of carpeting that we carry, check out our carpet page or contact us directly.
How to Choose a Carpet Runner
The best way to make a stair runner selection is to see your options in person. We have a beautiful showroom in Portsmouth, NH where you can browse our many carpeting styles and patterns, touch them in person and even grab some samples to take home and mull over.
It's always helpful to bring along anything related to your home project like fabrics, wood samples from stairs, and paint swatches. This way we can match your home's décor with our carpet runner options on the spot and help paint a picture of the final results.
We are always happy to provide advice from our decades of experience in the flooring industry, but in the end, we want to help you make your dream home a reality. Let us know any way we can help you make the best decision.
Let's work together to make your space beautiful, one floor at a time!