Ah yes, The Joy of June! The month of June brings much joy to everyone in so many ways. Everything is blooming, the school year is ending, summer vacations are close by and we cannot forget to mention weddings. June is one of the most popular months for wedding ceremonies – it is from these new beginning celebrations that we got our inspiration for this months blog. Much time and effort is spent planning a wedding and before you know it your special day has come and gone. We would like to present to you ideas of how to incorporate your wedding theme into your new home renovations.
For all you newlyweds or soon to be newlyweds, we have taken many elements of a wedding celebration and paired them with tile choices to provide you and all our readers with ideas to freshen up any bathroom in your new home. We have used popular June wedding color schemes of wedding invitations, flower bouquets, bride and bridesmaid dresses and wedding cakes as our guiding light.
Let's start with a wedding invitation.
Below we have a beautiful wedding invitation (designed by Celeste Simpson from Impress Me Designs [impressmedesigns.com], Photography by: Elizabeth Kelly Photography) with the colors of white and teal.  We paired it with a small but stunning updated bathroom with the striking glossy ceramic tile collection of Evoke. The mix of marine colors of white, aquamarine, teal, blue and light blue have been reinterpreted with a contemporary approach.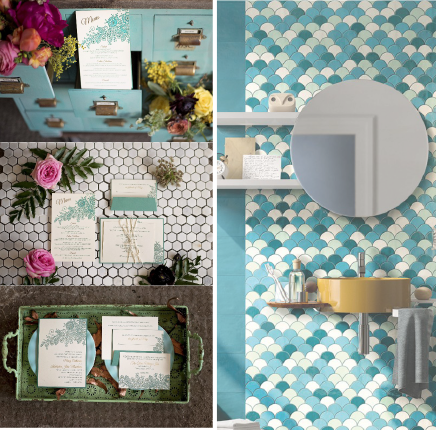 Next we found photos of a black and white wedding and a white Anemone wedding bouquet as our inspiration (photographs from elitebridal.blogspot.com.au). We paired it to an updated classic bathroom using glossy Medley tiles in an array of accent pieces of  2" x 5", 5" x 5", 1/2" x 10"  and  a 2" x 10" tile molding. Don't you think that every time you would step foot in this fabulous bathroom it would be reminiscent of this amazing black and white themed wedding?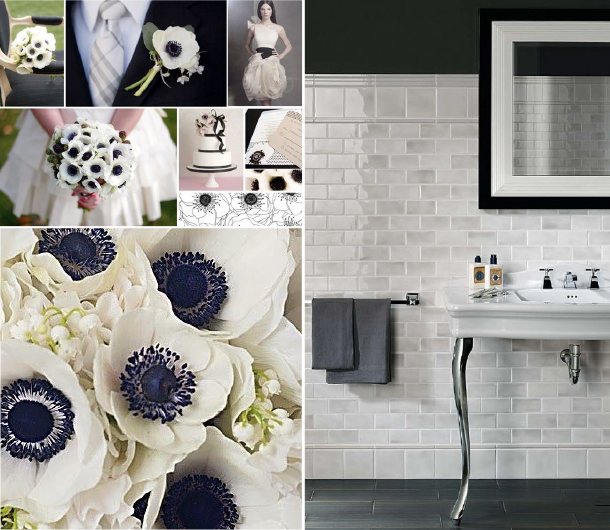 Ladies, who isn't blown away by gorgeous wedding dresses even if you are already married.  We just happened to come across this beautiful wedding gown from modwedding.com. The glamorous fabric draping and surpurb fit with couture finishings just caught our eye.  As we perused our photos of  luxurious  bathrooms to pair with the wedding dress we couldn't help to think that this bride would love to come home to a bathroom such as this one.
The Lucente tile line comes in glossy ceramic wall tiles and glazed textured porcelain floor tiles. The ready to satisfy every color comes in neutrals to bolds and whites to pastels. The sizes come 8" x 24", 16" x 16" and 2" x 2" mosaic. This bathroom is perfect spa retreat for this newlywed!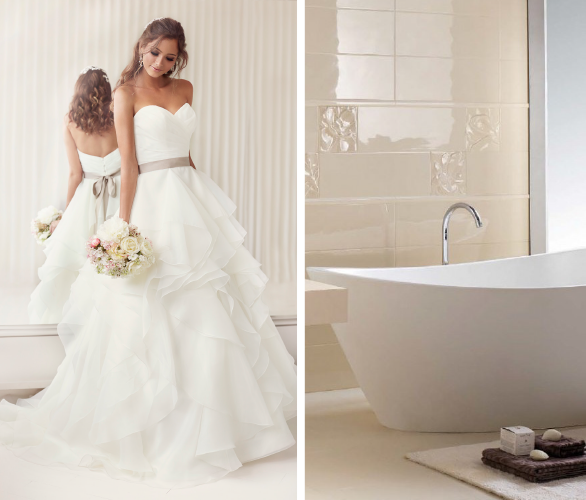 The bridal party of June weddings are usually dressed in pastel colors. The bridesmaids are wearing green Miracle Dresses by Vanessa Lundborg (photo by Brides.com) a very popular color for 2016. I think we paired the bathroom below very well with the theme of this bridal party. The Streamline by Florida Tile offers the hottest new colors for inspired interior design. With a mix of matte and glossy ceramic wall options, colorful glass mosaics, and attention-getting decos and trims, Streamline features a full gammet of design possibilities. The tile used in this installation is 3" x 3" Artic (glossy) and the mosaic tile called Tropical comes as 1/2" x 1/2" mosaic.
FOLLOW THE PEBBLES… Many destination weddings are oceanside and we found this photo of a sculptural three-tier cake featuring a layer of real summer blooms by Sweet Indulgence and photographed by Amilia Photography to be just that. This photo looks to be one of those oceanside destination weddings where you follow the pebbles to a lifetime of happiness.
To pair this destination wedding theme, we discovered this beach retreat bathroom with arduously arranged mosaics seamlessly united in visual perfection. Every pebble set rightly in its place. Sensible and pristine, this collection comes in sliced, round or oval formats. Undergo these captivating transformations in your home with Pebbles stone tile. Ah, you can hear the water splashing as you lift your foot from the tiled floor into a sea of tranquility.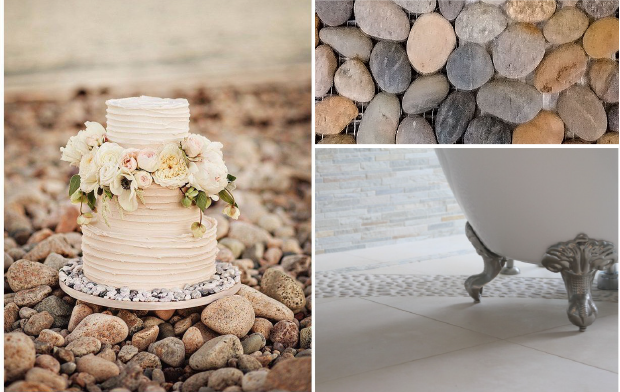 Well, we hoped you enjoyed this month's blog! Next month's topic will be kitchens and entertaining. Until next next time… Enjoy all that June has to offer. Congratulations to all you June brides!