A mudroom is often considered the gateway to the home as you want them to create a smooth transition from outside to inside. And, because of that, you want a mudroom to be functional as well. Here's some practical mudroom ideas for easy cleaning and organization.
At The B & C Floor Store in Portsmouth, New Hampshire, we install tile and vinyl in mudrooms. Tile is the most durable but vinyl has quickly become a great choice for mudrooms due to its durability and ease of cleaning. Plus, since you will often be entering with wet or dirty shoes and if you happen to have pets – you will want to have a mudroom floor surface that's easy to stand up to the mud and grass that's sure to be trekked inside.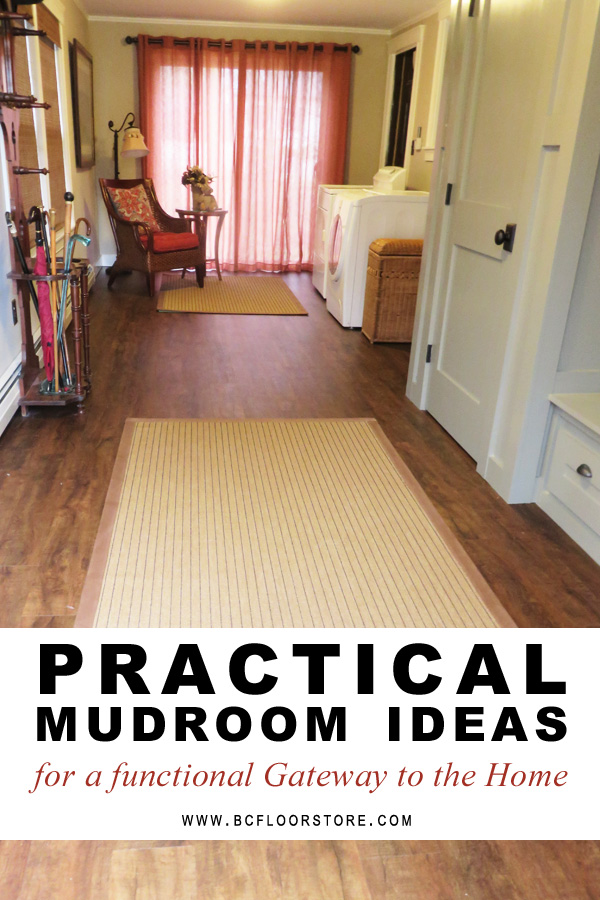 If you're looking to create a welcoming mudroom that's also efficient for your home – you might want to consider a few of these practical mudroom ideas . . .
1. A coat rack is always a smart idea. It can be a freestanding coat tree or wall mounted.
2. Create a sitting area by incorporating a bench. This can even be used as additional storage underneath.
3. Add shelves on wall or built in to fill with baskets for each family member. This will help minimize clutter (think hats, gloves, scarves in the winter, sunscreen and sunglasses in the summer)
4. Custom built-in entryway cabinets can create the look of furniture that matches the home.
5. Add hooks to the walls for quick grabbing of jackets and backpacks.
6. Hang a memo board on the wall for quick reminders so nothing is forgotten as you leave.
7. Create shelves that become mail slots for each member of the family.
8. A long bar on the wall with S-hooks can hold book bags and umbrellas.
If you're ready to see all the choices available to you for practical mudroom ideas, be sure to give us a call at The B & C Floor Store. We're ready to help you create the ultimate gateway to your home. You can reach us at 603-436-9686 to set up an appointment or please stop by our showroom to see the latest mudroom ideas.