We Floored You!
Who doesn't love hardwood floors! You can always find a variety of choices in hardwood flooring to enhance your decor and add richness to any room,  no matter what decorating taste or lifestyle you have. Hardwood floors come in a wide variety of wood species, colors, finishes and widths, which means that you don't have to have the same as your neighbors or friends.
We want to share with you today, 3 hardwood installations we did in Maine, 2 were in York and the other in Kittery. Each of them chose a different species of wood; One chose 3 1/4" Solid Natural Hickory in the Family Room, the other 3 1/4" Solid Yellow Birch, Coastal Grade in the Kitchen, Hall, Bedroom (and adding tile in an entry that abuts the new wood floor)  and the third chose 3 3/4" Solid Natural Strand Woven Bamboo in the Living Room, Hall and custom made stairs treads.
Take a peek…
When you are looking to renovate or update your home, your floor is often the best place to start. Changing the flooring in your home will add style and function with ease. There are so many different types of wood to choose from and Hickory floors are gaining popularity, it is becoming the go-to-choice for many homeowners that are concerned with style and cost.  It is important to understand that durability and strength are a must when you are searching for the best floor option. You want your new floor to be able to stand the test of time no matter how much foot traffic your home sees. There are many exotic hardwoods from around the world but Hickory is known as the second hardest type of flooring found in the United States.
It is almost impossible to go wrong with hickory flooring. It is lighter in color, which is what many homeowners like most about this hardwood type. It has the ability to add warmth and light into just about any room.
York, Maine – 3 1/4" Solid Hickory Natural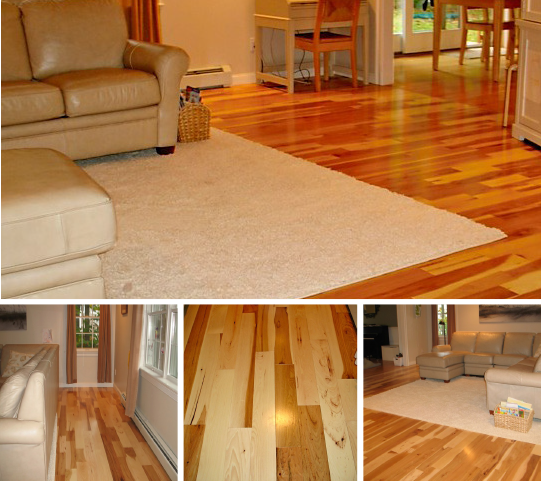 3 1/4" Solid Yellow Birch, Coastal Grade
Yellow Birch,  Coastal Grade is a popular choice among those desiring diversity in a floor's appearance. The richest option for those looking for color contrasts, character and intriguing grain patterns, this grade will show an occasional mineral streak or a knot, which we feel only add to the species' character and charm.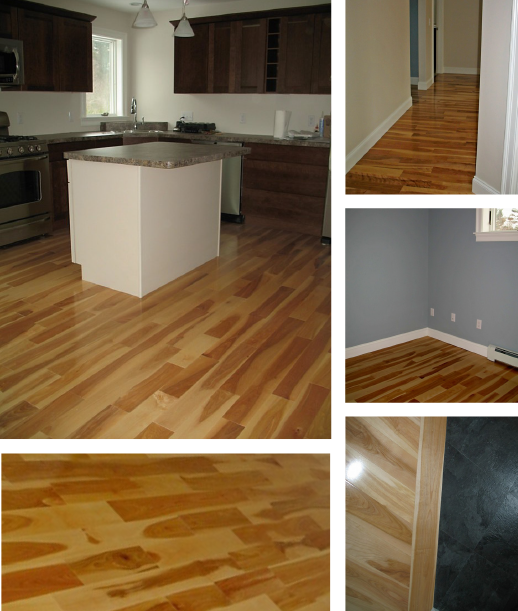 3 3/4" Solid Natural Strand Woven Bamboo
Twice as hard as oak, strand bamboo is an optimal choice for busy homes when durability is needed to stand up to the wear and tear of family foot traffic, active kids and even pets. Here are some before and after pictures: