Transform A Space In No Time, Just 1 Day
Summertime has left us and fall is settling in. As the cooler weather arrives, we start to spend more time indoors and this is the perfect time to tackle small projects in your home, We are talking about small projects that can be done in 1 day! Oh yes… how about a new backsplash for your kitchen or bathroom, a new mudroom floor, spruce up entryway with new hardwood or tile or add a new stair runner to the stairs. Other great ideas would be refacing your fireplace or prettying up a powder room with new tile on the floor or accent wall. It is true, each of these projects can be done in a day and we are excited to show you some ideas we have in mind for you.
Lets start with backsplashes –
When we think of a backsplash we automitically think of a kitchen, but why not a bathroom? Here we have a bathroom backsplash installed with classic white subway tiles that are versatile and easy to find. But it is not your average installation with straight grout lines. Here the designer from Studio Z Design suggested this layout to her her clients so that the tile corners formed right angles. It is like a traditional herringbone pattern set on a diagonal.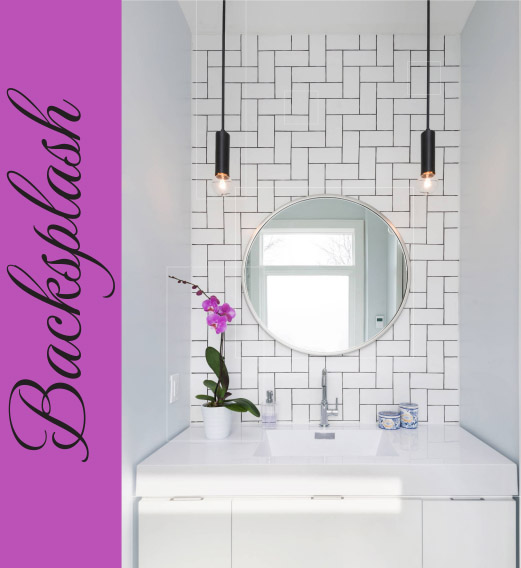 Bathroom photo from: Studio Z Design
Next let's talk about mudroom floors. We suggest using a tile or natural stone for your mudroom. These products stand up to standing water and are the most durable. If you want hardwood be sure to put a mat or boot tray at the entrance to keep the wear and tear at a minimum.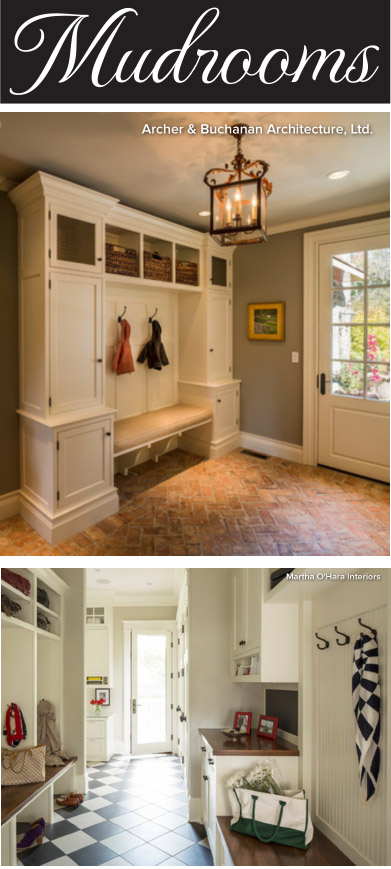 Refacing a fireplace can make such a statement in a room. There are a lot of options to choose from but here is a stunning tile that might spark your interest!
We hope you enjoyed this months blog! Our topic for next month, November, will be dining rooms.  We thought it was appropriate for Thanksgiving time. We hope you join us!