Sit back and relax, we are about to bring you some ideas to update your home!  We hope they will inspire you to think about how you can make over your space this spring using the color green.
Green is such a wonderful color. It symbolizes nature and peace, and evokes a positive feeling. Light green offers a soothing, calm emotion where as a bright green stimulates a more enthusiastic energy. No matter the shade,  the color green is pleasing to the eye and provides a sense of renewal, harmony and freedom!
In the bathroom below, we have Artic white ceramic tiles on either side of the soaking tub area and straight on, the featured wall and the area in front of the tub is a Tropical Mosaic Glass tile. This Streamline Collection offers a  mix of matte and glossy ceramic wall options, colorful glass mosaics, and attention-getting decos and trims, Streamline features a wide option of  design possibilities.
In the next 3 photos, we featured a textured tile called Waves. It is a 4 x 16″ tile that looks great in both a bathroom as well as a backsplash in a kitchen.
Waves tile, Color: Ocean Spray
Waves tile, Color: Winter Lake. Green accents adorn this bathroom to give a spa like feeling.
Waves tile, Color: Surf Green. This kitchen is inspiring to eat healthy!
The last image is of a kitchen with green tiles that offer 4 different textured tiles scattered throughout the entire backsplash providing a modern look. The collection of these glossy tiles is called Sheen.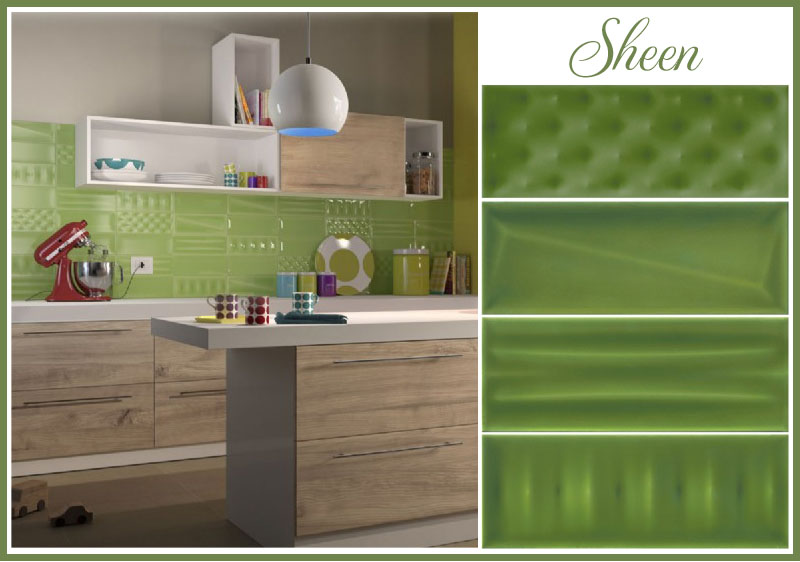 Wishing you all a Happy Spring and a Happy St. Patrick's Day. Enjoy this spring month!